IIHS Library showcases a series of quarterly exhibitions that focus on a particular city or theme. These exhibitions include books, maps, and movies, and they feature themes ranging from art and heritage in Indian cities, sustainable design, water and resource management, graphic novels, political history to life sciences and the urban practitioner. For the list of the past exhibitions, see below.
Upcoming and Current Exhibitions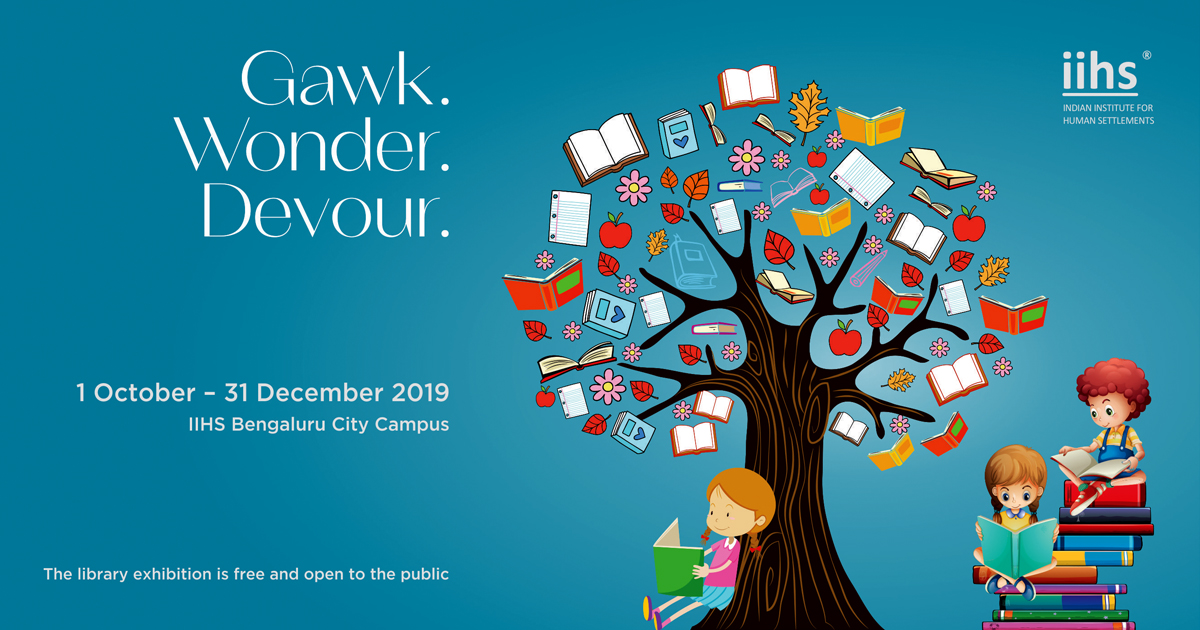 Gawk. Wonder. Devour.
1 October – 31 December 2019
If you grew up in India, the odds are you were reading about scones, ginger beer, licorice and lacrosse. We've sauntered down hillsides with Ruskin Bond, befriended the man-cub with Rudyard Kipling, explored small towns with RK Narayan and gone on adventures with Robinson Crusoe. Amar Chitra Katha, Panchatantra and Aesop's Fables have all been read too. But we rarely read books about children like us; relatable books that mirrored our lives.
Gawk. Wonder. Devour, the quarterly library exhibition is open from 1 October to 31 December at the IIHS Library. Explore what it feels like to be a child in 2019, reading through Indian children's books. What's Neema Eating Today is a picture book about eating seasonal fruits and vegetables. Walking is a Way of Knowing shows us Western Ghats through the eyes of the indigenous Kadar tribe. Through the eyes of Korok, a tribal boy, Year of the Weeds shows young adults how India works—police, courts, development and representation. There are also books about contemporary women scientists in India and those around disability, armed conflict, waste management and autism.
Come, be a child with these delightful children's books. They are as much for adults.
This exhibition is free and open to the public.
in Stills | 1 July – 30 September 2019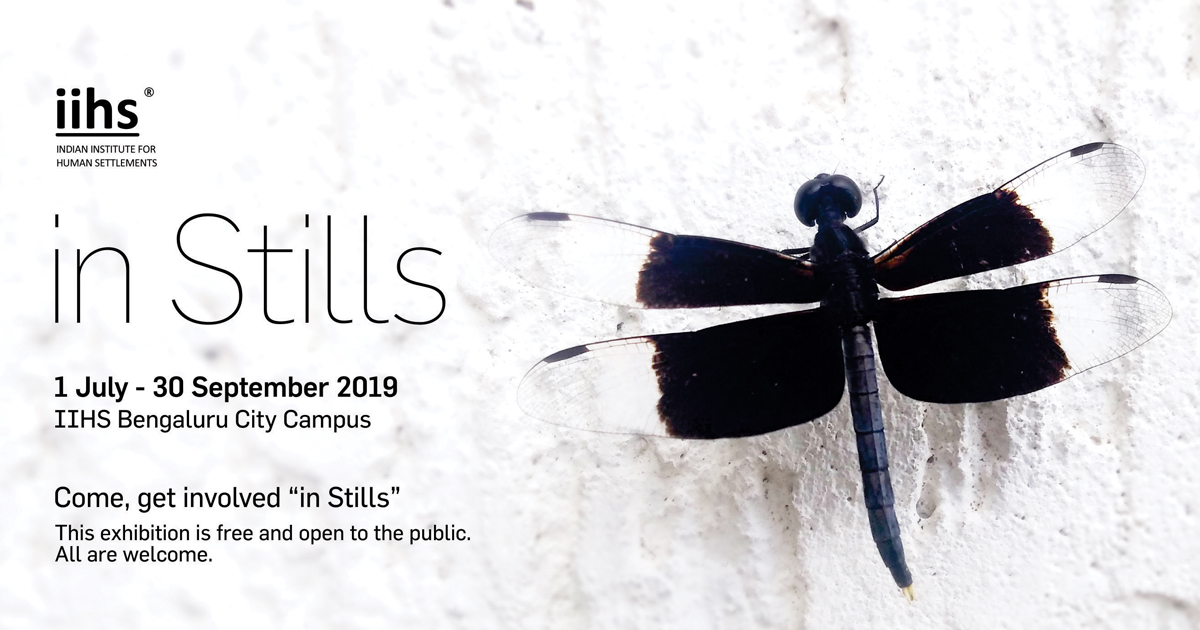 in Stills
1 July – 30 September 2019
Thanks to the Internet, we live in an age of constant image overload. Take a break. Come offline with us as we bring you some of the best photo books by world famous photographers. "in Stills", IIHS Library's quarterly exhibition in collaboration with the Media Lab, is open from 1 July to 30 September.
For appetizers we have Camera Lucida by Roland Barthes. Read through Barthes' reflections on photography to begin your detox. Next up is Henri Cartier-Bresson: Masters of Photography Series, a book on the works of the master photographer who proposed the concept of decisive moment in photography. Joining him on the main course is, Ansel Adams: 400 Photographs, a chronologically arranged photo book on another legend. For dessert we have Vivian Maier: Street Photographer. Vivian Maier was discovered posthumously exposing her body of work—a massive 1,50,000 photographs covering people, portraits and architecture.
Come to the exhibition for our selection of the works of legendary and contemporary photographers ranging from portraits to landscapes and from architecture to war photography.
Stay for Found Photography, a collection of impeccable works of art by common people, found and curated off the Internet. Begin your offline photo detox today!
Please do visit the Library to explore the featured books and spread the word.
This exhibition is free and open to the public.
History of Urbanisation: Through the Eyes of Women | 8 April – 30 June 2019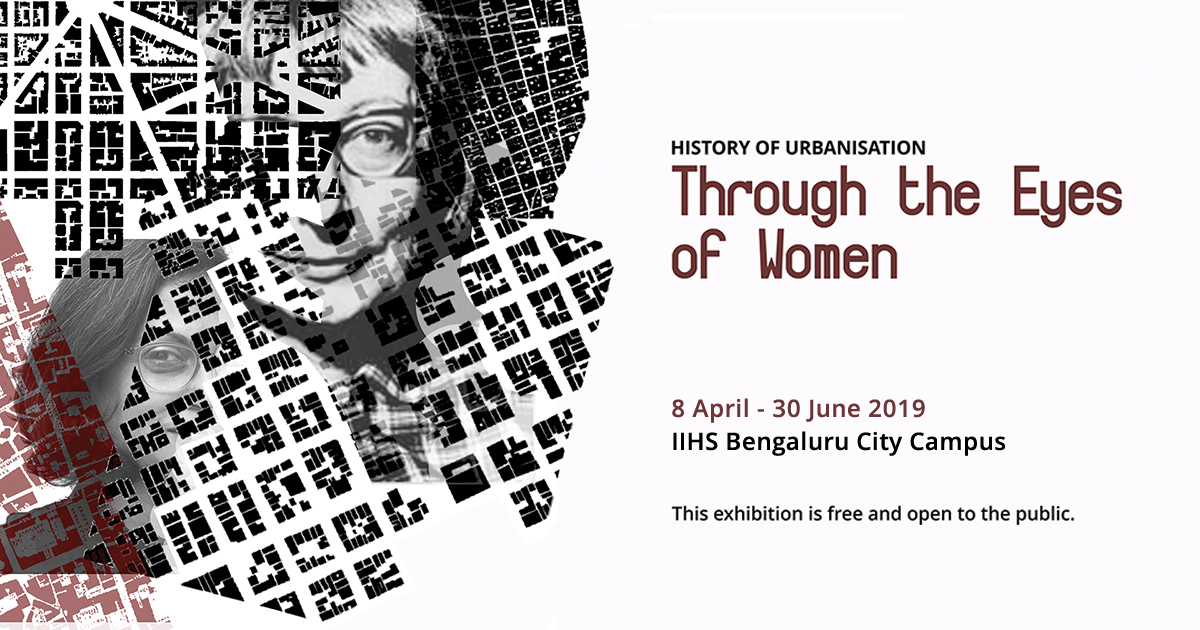 History of Urbanisation
Through the Eyes of Women
Cities have always been presented to us as grand visions of planners—often men. This book exhibition showcases the history of urbanisation through the eyes of women who have contributed to city planning and urban policies globally.
8 April – 30 June 2019
This exhibition is free and open to the public.
Urban Livelihoods | 11 February 2019 – 30 March 2019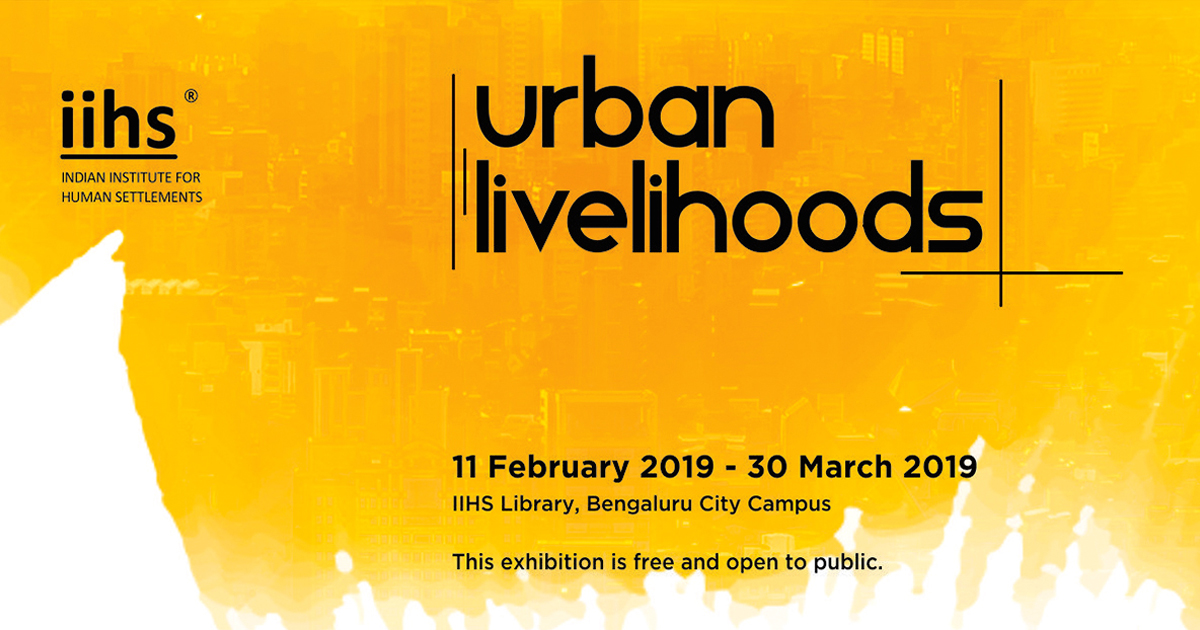 Urban Livelihoods
The promise of better employment is what draws many people to cities. While the city presents innumerable opportunities of livelihood, not everyone can avail these opportunities equally. The urban poor are more vulnerable and exposed to risks than others, while engaged in informal livelihoods, forming an integral part of the urban fabric.
Through this exhibition we explore the different aspects of urban living such as labour and employment, linkages between housing and livelihood, access to micro-credit, risk of evictions and resilience through difficult times.
11 February 2019 – 30 March 2019
IIHS Library, Bengaluru City Campus
The Library exhibition is free and open to the public.
Memories and the City | 15 October ~24 December 2018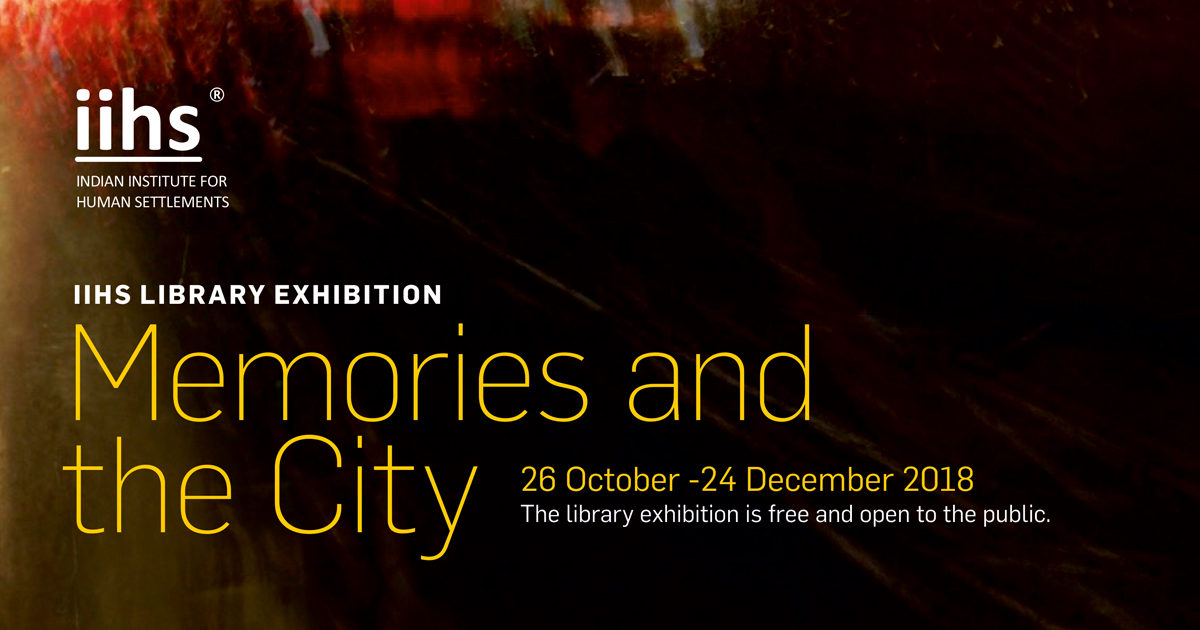 Memories and the City

Is it possible to tell stories about our lives without those of the physical spaces we inhabit? How closely are our struggles for personal coherence driven by how we experience these spaces? We often trace our memories by the shifts in a city—the one we grew up in, the one that we came to love or that we feel ambiguous about. How do these memories of the city shape our memories of ourselves?
Visit the IIHS Library exhibition, "Memories and the City" to reflect on your stories and memories of and in the city.
15 October ~24 December 2018
IIHS Library, Bengaluru City Campus
The Library exhibition is free and open to the public.
Politicising the Plate | 5 August – 30 September 2018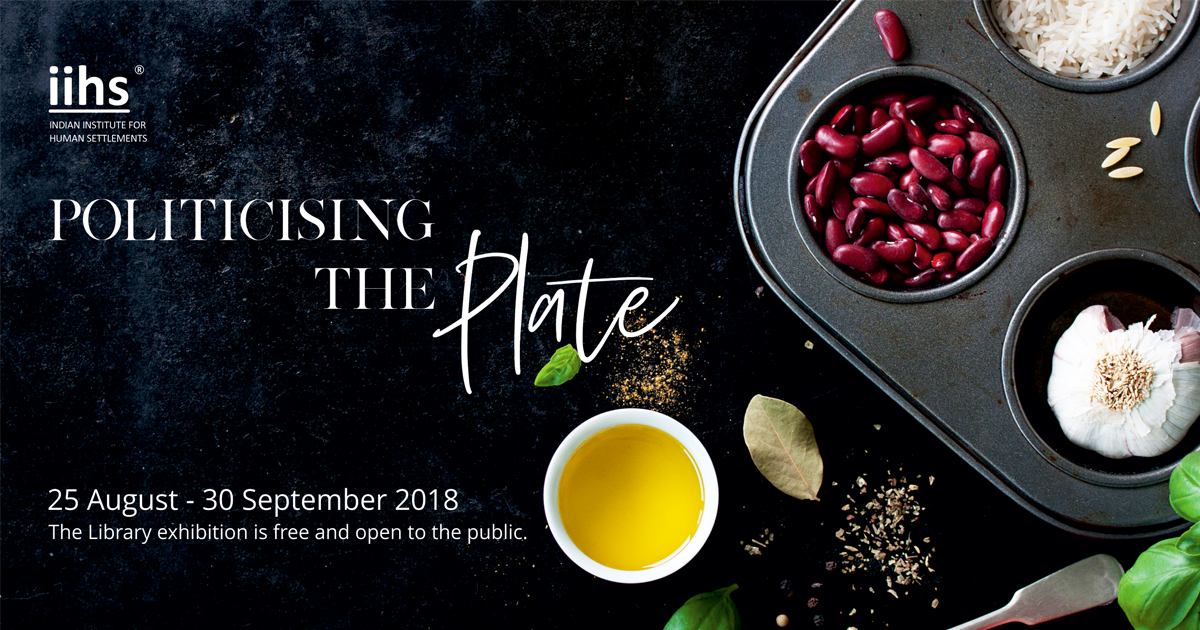 Politicising the Plate
Eating is an intimate visceral and political experience, with aromas and tastes merging with social orders to produce particular ways of consuming and rejecting food. Culinary preferences and habits do not exist in a vacuum but traverse material and symbolic foodways. This exhibit is a journey through the bylanes of the food landscape, tracing and visibilising its trajectory and entanglements across histories, politics, sectors, scales and people. We invite you to explore food as it moves from seemingly idyllic moorings in pristine agrarian surroundings to grime-encrusted factory floors in booming agro-food parks, from fluctuating commodity futures markets to tech-savvy e-retailers, from street vendors to upscale organic food stores, and from culinary tourists to you.
5 August – 

30 September 2018
IIHS Library, Bengaluru City Campus
The Exhibition is free and open to the public.
Calcutta - Kolkata | 30 April - 29 June 2018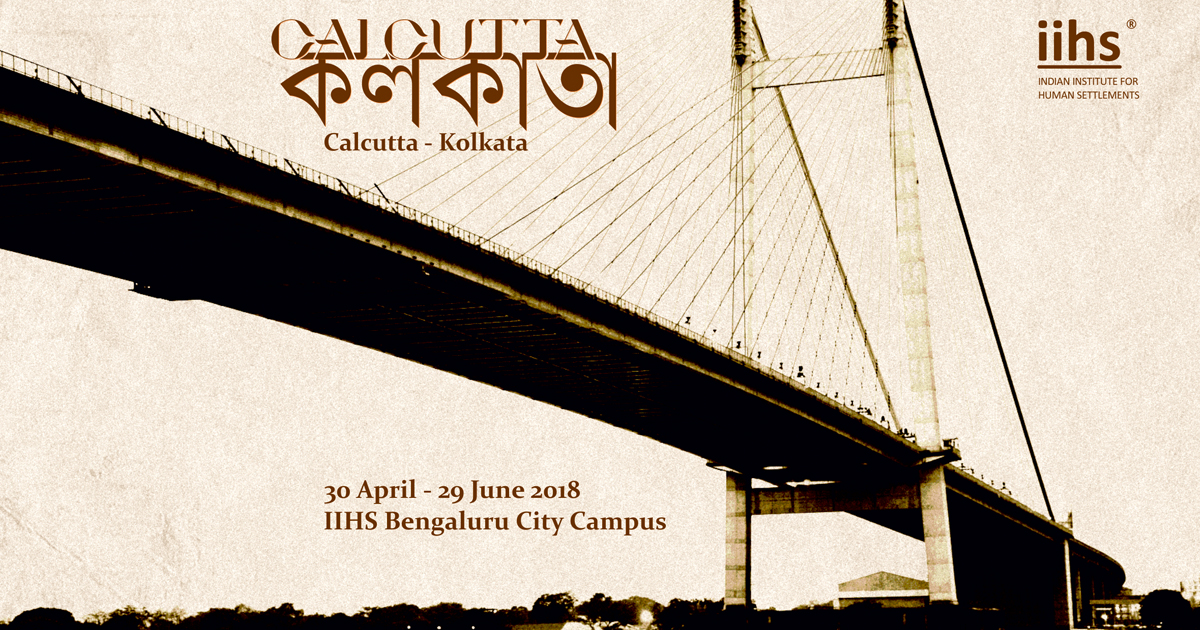 Calcutta – Kolkata
How do we read a metropolis? A book, pamphlet, or even marginalia can take us to an imagined space that often exceeds the author's intention. Such an escape beyond the frame of the text perhaps has to do with the complexity of the metropolis, the impossibility of fully capturing its essence or representing it. Reading these texts may open up new possibilities of seeing the city. Through this curated exhibition of texts, we invite you to daydream about the metropolis, going beyond the boundaries of the written word.
30 April – 29 June 2018
IIHS Library, Bengaluru City Campus
The Library exhibition is free and open to the public.
Literaryscapes: Imagining the urban in literature | 03 January – 31 March 2018


Literaryscapes: Imagining the urban in literature
Cities have been the crucibles of civilization. The slow, solemn song of history first found voice in cities, and the history of human literature has also often been the history of human settlements.
What, then, is the landscape of cities in literature? From the god-kings of Uruk to the presidential strongmen of our times, cities have been imagined variously. They have been charged with many meanings, and have served as melting pots for various cultures, dispensations, and aspirations. In this exhibition, IIHS Library is excited to explore the urban through the variegated canons of literature. Combining genres, stylistics, and settlement typologies, Literaryscapes hopes to understand more closely not just the politics but also the aesthetics of what it means to be urban.
03 January – 31 March 2018
IIHS Library, Bengaluru City Campus
This exhibition is free and open to public.
Pin Drop (13,77.6) | The Art and Science of Map Making | 03 October – 22 December 2017

Pin Drop (13,77.6) | The Art and Science of Map Making
Maps are amazing. They are pieces of art and tell us a story, real and fictional. Maps are helping us explore, navigate, document and visualise the world for many centuries. While the process and the technique of map making have changed, maps have remained important all along.
In continuation of our earlier exhibition, IIHS Library announces its 12th exhibition on maps 'Pin Drop' starting October 2017. The exhibition displays informative and beautiful maps and atlases of cities and countries of the world some in thematics—heritage, history—and others in physical geography settings.
Having a collection of about 600 maps in total at the IIHS Library, some of the maps and other cartographic publications that are showcased as part of the exhibition are Maps of Delhi, Landforms of India from topo maps and images, Mapping India and Principles of map design and Making maps. And some of the world cities featured are London: a life in maps, London: a history in maps, Les Plans de Paris, Berlin: Stadtplan, Concise atlas of the world, UNESCO world heritage atlas, Oxford atlas of the world and many more.
03 October – 22 December 2017
IIHS Library, Bangalore City Campus
The exhibition is free and open to public.
Affordable Housing in Urban India | 03 July–30 September 2017

Affordable Housing in Urban India 
03 July–30 September 2017 | IIHS Library, Bangalore City Campus
Housing supply for the income poor has always been understood in terms of quantifiable outputs and minimum square feet. On the other hand, the formal and private housing market for those who can afford to pay is bound by no such restrictions. In light of the growing housing shortage and the increasing prices of real estate, 'affordable housing' has been posited as a possible solution. This refers to housing that is affordable to those who earn less than the median income. Recent policies and government initiatives have been geared towards creating an enabling environment to increase the supply of affordable housing stock and address the issue of inadequate housing.
This eleventh IIHS Library exhibition attempts to unpack concepts such as affordability, viability and adequacy, which are key to understanding current debates and policy regimes concerning affordable housing in India. Towards this end, it makes available a wide range of resources, including academic texts as well as government policy reports. These available books and data can be searched at Library Catalogue.
On Practice: An exhibition of cinematic journeys | 27 April – 27 June 2017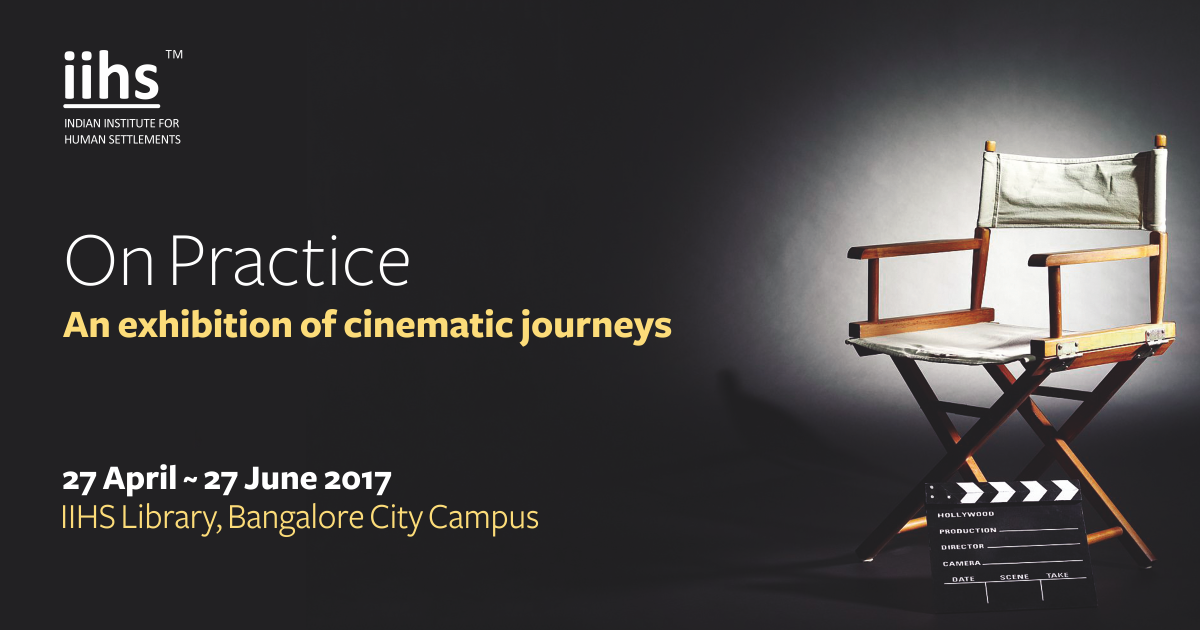 On Practice: An exhibition of cinematic journeys
27 April – 27 June 2017  |  IIHS Bangalore City Campus
Who are the people behind this ubiquitous medium of cinema? What goes on in their minds? What are the experiences that have shaped their world view and their cinematic language? And more importantly, why is it important for us to understand the practice of their craft?
While academic writing and film criticism are important lenses through which we understand the medium of cinema, and a whole range of writing exists around it, not too many film practitioners have written about the process of creating their craft, and what particular contexts and histories have shaped their work. At a time where the proliferation of digital technology has made the medium of cinema accessible, it becomes even more important for us to understand what the practice behind filmmaking is, and how have these practices have shaped the audio-visual culture over time. This IIHS Library exhibition, in collaboration with the Media Lab is an attempt to engage around works (books/films), that enrich our idea of film practice. This exhibition puts together books and films about films and the people and practice behind those films.
Among the books that will be showcased as a part of this exhibition, Shooting Women explores the lives of camerawomen working in films and TV while Fearless Nadia is about India's original stunt queen. Written by Salim-Javed: The Story of Hindi Cinema's Greatest Screenwriters showcases how the duo of Salim Khan and Javed Akhtar ushered in a new era for screenwriters in Hindi cinema. In My Brother Shankar Ananth Nag speaks about the life of the actor, producer and director Shankar Nag. Double Take is collection of essays bringing together the thoughts and reflections of filmmakers, technicians, critics and enthusiasts, to engender a second look at the place and practice of the documentary film in contemporary India. Hitchcock by Francois Truffaut presents interviews with Alfred Hitchcock about his vast directorial career.
The exhibition also showcases films that explore similar themes. Celluloid Man traces the journey of India's legendary archivist PK Nair and Profession Documentarist is about the experiences of seven Iranaian female documentary makers. Miss Lovely is a stylized fictional account of the crime and grime of Mumbai's C-grade film industry and Superman of Malegaon is a heartwarming documentary on the movie making industry in Malegaon.
This exhibition presents a chance for the public to enter a world beyond what we experience on the cinema screen. These available books and films can be searched at Library Catalogue.
UNEASY - Library Exhibition on Architecture, Spatial Design and Development | 25 January – 31 March 2017

UNEASY – Library Exhibition on Architecture, Spatial Design and Development
25 January – 31 March 2017  |  IIHS Bangalore City Campus
Architecture has always been tasked with serving development, be it 'Development'—in the form of private, exclusive and 'market-oriented' expressions, or 'development'—with respect to public spaces, public buildings and social infrastructure. Architectural endeavour seems to be growing increasingly comfortable with the former, engendering in our cities a sense of exclusion and homogeneity of space, while veering away from its responsibility towards socio-economic equity and socio-cultural transformation. This renders the relationship between architecture and development
UNEASY.
This exhibition seeks to provoke a discussion around an approach that places greater value on culture, place identity, sustainability, diversity, health and resilience. You are invited to engage with the works—historical, contemporary and conceptual—of architects who have been ambassadors of place-sensitive and responsive forms of spatial design. Together, these constitute an inquiry into the developmental role of architecture and spatial design, ranging from social housing and gendered spatiality to design-thinking and universal architecture.
The exhibition is free and open to the public.
New Town Development: India and the World | 1 Oct ~ 31 Dec 2016

NEW TOWN DEVELOPMENT: INDIA AND THE WORLD
01 October ~ 31 December 2016 | IIHS Bangalore City Campus
From satellite towns to company towns, from garden cities to sustainable and intelligent cities, the new town movement has taken multiple forms over time to serve newer aspirations but has endured as a practice in urban planning.  The exhibition will feature work by academics and practitioners from diverse fields like economics, sociology, anthropology, planning, architecture, design and ecology who trace the history, economics and futures of the new town movement across the world. The exhibition includes deliberations on planning trajectories and the various socio economic and ecological consequences of new towns across geographies.
Pin Drop (13,77.6) | 15 October - 31 December 2015

Pin Drop (13,77.6)
15 October – 31 December 2015 | IIHS Bangalore City Campus
IIHS Library is proud to announce an exhibition on cartography, the art and science of map-making. The Library hosts a rich collection of historical and thematic maps, that tell the story of India dating back to the late 1800s. On display will be maps published by the Survey of India, Census of India, Geological Survey of India, National Atlas & Thematic Mapping Organisation, Imperial Gazetteers and a vast number of private and institutional publications. The Library will also showcase its large collection of publications on the theory and applications of cartography.
Short live-demonstrations will be held during this exhibition to introduce visitors to the art of map-reading. The exhibition will begin in October and go on till the end of December, 2015.  
Do come by and explore the world around you from the comfort of the IIHS Library!
Climate Change and Cities | 1 June – 31 August 2015
Climate Change and Cities
01 June – 31 August 2015 | IIHS Bangalore City Campus
Climate change, considered as the greatest challenge of our times, is impacting cities more severely and dangerously than ever before. Millions of people, infrastructure and ecosystems are highly vulnerable to impacts of climate change such as sea level rise, increased precipitation, and increasing number of extreme events.
IIHS library is exhibiting a rich collection of books on Climate Change and Cities that spans a variety of themes including global and national mitigation and adaptation strategies for climate change in cities, disaster risk reduction, risk management and resilience building, climate policy and governance, and many more.
Do come by and more importantly, spread the word! The exhibition will go on till the end of August and is open to public.
Organized by CARIAA & Library Teams
KA-POW! | 1 September 2014
Library holds an exciting collection of graphic novels, cartoons, comics and a few texts on the comic form. Apart from the RK Laxmans, the Frank Millers, the Sarnath Banerjees, and a lovely tome of Bill Watterson's enduring classic Calvin and Hobbes, here are some books to look out for:
Will Eisner's A Contract with God
Vishwajyothi Ghosh's compilation of Partition narratives, This Side That Side
A Little Book on Men, which is a little book on men with a foreword by resident rockstar Gautam Bhan.
Essential reading – The Complete Maus by Art Spiegelmann
The DC Comics Encyclopedia (for the malingerers who have been planning to attend Comic Con)
Please do come by and more importantly, spread the word! The exhibition will go on till the end of September and is open to public.
Curated by Rihan Najib and Library Team.
Mumbai | 29 January 2014
This month, we have the fourth of our IIHS Library Exhibitions: Hocus Focus Mumbai.  Yes, we'll be concentrating on one of India's most well-known and beloved cities [Note to Self: Assiduously avoid meeting Dilli people until next exhibit].
Introduction
Unless you've who've lived in the south of South Mumbai all your life (in which case, your universe's northern limit is Regal Cinema…Voyager probe be damned), Mumbai, for most people, extends from the areas of Colaba and Fort in the South to Kandivali and Borivali in the North. What about the East and West? Well, Mumbai happens to have a rather unusual form. What with that and with all major roads and railway lines running north-south, most Mumbaikars seem to visualise their city as being laid out on the north-south axis. That is, until they need to travel to Chembur and beyond, eliciting complaints about the railway's Harbour Line.
Some people have lots of cheeky, politically incorrect debates on whether areas beyond Borivali, such as Vasai and Virar can be considered part of the city or not. Others smugly declare that Mumbai 'ends', much before, at Andheri or Mahim. Well, whatever you wish to believe, few can deny that each of these places has its own charm, its own characteristics and its own contribution to the teeming melting pot that is Mumbai.

The Exhibit
Begin your own exploration of Mumbai by visiting the open space on the second floor. The notice board next to the classroom entrance contains some vibrant pictures of Mumbai, showcasing its spaces, its people, its colours and contrasts.
This space also contains two interesting articles – one is by Naresh Fernandes on the city's long association with jazz music and the musicians who formed an integral part of Bombay's golden age of jazz in the 1930s and 40s. Another is an article on Kapil Gupta, an architect involved in the renovation (some may also add gentrification) of Mumbai's industrial spaces. One of his most well-known designs is that of Blue Frog, the performance space/watering hole built out of one of Mumbai's defunct textile mills.
Following this, move on to the third floor where the notice board outside the library contains more pictures and articles. One article is a review of Kaiwan Mehta's book Alice in Bhuleshwar, which talks about one of Mumbai's oldest localities. Another is written by a Mint journalist (on the eve of Mint's office shifting from Dadar to Lower Parel) on Mint employees' relationship with eateries, restaurants and food joints of Dadar.
Move ahead to the exhibition space inside the library, where its collection of books and films on Mumbai are on display. Some of them are briefly described below:
(a) Gyan Prakash's Mumbai Fables provides a rich narrative of some of Mumbai's most well-known events, ranging from its days as a textile giant to the growth of tabloid journalism with the Commander Nanavati murder case to the contestations over Backbay Reclamation as well as the industrial collapse of the 1980s.
(b) Shobha Bhondre examines one of Mumbai's most famous institutions – the dabbawalas. Translated from Marathi and narrated by both Raghunath Medge (the President of the Dabbawala Association) and by Shobha Bondre, the book Mumbai's Dabbawalas attempts to shed some light on the way this unique organisation works.
(c) Bombay Stories is a collection of translated short stories by the Urdu writer Saadat Hassan Manto. Manto, who lived in the city during the 1930s and 40s, has written several stories set in the city during the period. For a review of this book, see http://www.livemint.com/Leisure/1vj4VZEpu7A1q9Mzr0MKQN/Bombay-Stories–Saadat-Hasan-Manto.html
(d) Katherine Boo's Behind the Beautiful Forevers is the outcome of the author's three-and-a-half year project documenting the lives of people in Annawadi, one of the slums next to Mumbai's International Airport. Well-received and much acclaimed, it provides some haunting accounts of life in Annawadi.
The exhibit contains several films about or set in Mumbai like the visual essay on Mumbai on Vertical City, Rahul Mehrotra on the city of opportunities in One City, Two Worlds, and Chakra set in the social conditions of slums in Bombay and so on.
Life Sciences and The Urban Practitioner | 4 September 2013
Patrick Geddes, this polymath who was also the Maharaja of Indore for a day, put it quite well when he said, "This is a green world, with animals comparatively few and small, and dependent on the leaves. By leaves we live."
There ought to be something said about how disciplines around urbanization focus largely on the human subject, as if we were the only ones inheriting the earth. Though subjects such as urban ecology aim to attend to such a skew, what is missing is a vision of things as protean, but nevertheless unified. In this respect, it is worth looking at the mandate of planners such as Patrick Geddes and G.H. Krumbiegel, who sought to relate the natural sciences to social and ethical systems for a wider understanding of cities, the past, the present and the possible.
This brings us to the theme of the third IIHS Library Exhibition- "Life Sciences and the Urban Practitioner", which showcases a wonderful collection of books in the fields of urban ecology, socio-ecology, urban biology and the natural sciences.
Do go through the seminal works that introduce the disciplines of urban ecology and ecosystem sciences. We also have a few books that seek to integrate ecological principles in urban architecture and planning, such as Design for Ecological Democracy, by Randolph Hester, and Landscape Ecology Principles in Landscape Architecture and Land-Use Planning, by Dramstad, Olson and Forman. Don't miss the piece by John A. Adam on Mathematics in Nature: Modeling Patterns in the Natural World.
We must bring to your attention the outwardly drab-looking report Geddes submitted to the Durbar of Indore in 1918, titled "Town Planning towards City Development". It makes for fascinating reading, and also begs the question of why planners today have eschewed imagination and creativity in their reports. But Geddes apart, there are some lovely pieces on the ecological history of our cities, such as This Fissured Land, by Madhav Gadgil and Ramachandra Guha, and Secret Lives by Natasha Mhatre.
And if you're in the mood for alarmist literature, there's always Limits to Growth: The 30-Year Update.  In addition to the books, there are a few documentaries on ecosystems too.
Lenses of Creativity | 23 July 2013
Lenses of Creativity is an exhibition geared specifically towards portrayals of cities through the media of art and photography.
If you haven't had a chance to do so already, begin your traipsing with the entrance hall on the ground floor, where a number of photographs capturing different cities and settlements (taken by our own colleagues at IIHS) have been put up.
Make your way from the entrance hall to the stairwell and from there, to the second floor. The corridors on the ground floor and second floor contain several beautiful old maps, from different eras, some hand-drawn, some printed, of various cities and towns in India. For those who missed last month's exhibition on Delhi, the map of Delhi has been retained and is a beautiful piece to note.
Once you reached the end of the Map Trail on the third floor, take a peek at our library's colourful exhibition of books related to this month's theme. There are several books portraying and capturing cities (in both India and abroad) in interesting and innovative ways. From Leena Kejriwal's book on Calcutta to Sebastian Cortes' work on Pondicherry to Jake Rajs' book on New York, one can take a quick whirlwind tour of cities around the world through beautiful photographs and illustrations.
Apart from these, the library is also showcasing books on the arts and crafts in India (including the exquisite Crafts Atlas of India), the South African Poster Movement and Cinema in Mumbai.
Delhi | 14 June 2013
This exhibition focuses on our much loved (and much despised!) capital city. Begin your Dilli darshan by stopping by a gorgeous antique map of the environs of Delhi in 1807 at the ground floor corridor. Continue your journey up to the 2nd floor where parts of Delhi and Agra appear in the neighbourhood of the ancient kingdom of Oude and Allahabad and you see the mighty rivers Ganges and Jumnah.
End at the library on the 3rd floor where there is a treat awaiting — a fascinating collection of photography, fiction and non-fiction books and graphic novels on Delhi ranging from a book about the trees of Delhi to one with old photographs of Delhi to one about evictions written by our most passionate lover of Delhi, Gautam Bhan.
Here, you'll also find a set of movies about our capital.  One of our favourites for this collection is a pitch-perfect comedy about the real estate mafia scams in Delhi. And if all of this isn't enough, catch one of the many Dilliwallahs floating about the office and get them to regale you with stories of their hometown.